Wednesday, July 3, 2019, 12:00 noon, CDT (UTC−5:00)

Special Topic: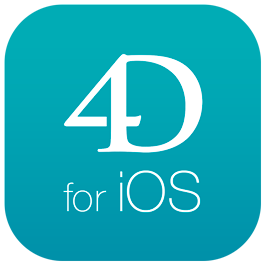 4D's scalable platform helps simplify the creation of successful customer experiences on mobile, web, and desktop devices. 4D is making leaps and bounds in the development of their latest and simplest mobile solution, 4D for iOS.
4D for iOS is an amazing new development that allows for the rapid prototyping of native iOS applications to extend the functionalities of your existing 4D applications.
With just a click of a few buttons and lines of 4D code, 4D for iOS provides a fully functioning native iOS application. Moreover, 4D for iOS generates all of the Swift code and storyboards for you so that you can easily extend your application to add the features that you need to fine-tune your application.
4D's very own William Taylor is excited to show off the many advances in 4D for iOS that have been implemented since you last saw the demos at the 2019 World Tour. These topics include:
These demos are intended for 4D developers who are wondering how this new power tool can help promote existing 4D applications with their current customer base and reach new customers as well.
If you have any questions prior to the meeting, please feel free to email Will Taylor directly or leave a comment below.
To be able to ask questions directly via video chat in the hangout, connect with this link.
!!! Check back to this page around meeting time for an updated link.
To follow along with the meeting slideshow, access it here when it is available…
Slides for July 3, 2019 meeting
Or stream directly on YouTube: